Catering
Our resident caterer is David Porter. For more than 30 years David has worked in the hospitality industry in both the U.K. and Australia.
David's experience extends from location catering in the film industry through to large scale corporate catering, banqueting and conventions. David was also Chef Manager at London's prestigious Dorchester Hotel.
David's catering acumen is married to his passion for excellence in all aspects of food creation and he takes particular pleasure in meeting a challenge. David grew up in the U.K., Libya and South-East Asia and has developed a deep understanding and knowledge of the varied cuisines of the world. As a result of David's experience he offers a variety of food choices, guaranteeing the success of your function or event.
David invites you to join him in celebrating cuisine that is wholesome and fresh, and assures your group an entirely new understanding of "Camp Food". One that is a truly memorable experience.
Koonjewarre offers a wide range of menus to suit all budgets, dietary requirements and tastes. These include: Standard, Vegetarian, Organic, Asian, Mediterranean, Halal, Seminar, Banquet, or one of your own special creations.
Phone David — (07) 5533 5121 — to discuss your particular catering needs.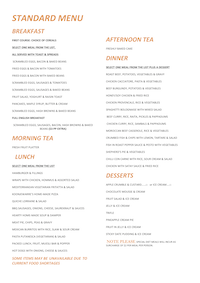 The Koonjewarre menu